Nikkolo M unites specialists in PR and Advertising, consultants in GR, sociologists, political scientists, psychologists, Digital PR – and Social Media specialists.
Leading specialists have academic titles and experienced internships in universities and research institutes in USA, Great Britain, Germany, and France. Top-managers if NikkoloM are known as the universally recognized experts in their fields.
Leading specialists
Igor Mintusov
Founder of Nikkolo M, the Head of the Board of Director
The President of Russian Association of Political Consultants (RAPC)
The President of the Russian Department of International Association of business-communicators (IABC/Russia)
Vice-President of the European Association of Political Consultants (EAPC)
Head of Academic Department of Advertising, Design and Public Relations of Plekhanov Russian University of Economics
Vice-President in GR of Russian Association of Public Relations (RAPR)
Member of the International Association of Political Consultants (IAPC)
Docent in Saint-Petersburg State University, head of GR-center
Member of the Council of Directors of Moscow School of Civic Education (till August 2013 – Moscow School of Political Studies / MSPS)
The history of professional political consulting has started in 1989, from the participation of Igor Mintusov and Center of political and sociological studies (since 1992 – NikkoloM) in elections of the Parliament of Soviet Union.
During 25 years of work on the market of political and business-consulting, Igor Mintusov managed more than a 100 campaigns in Russia and abroad. Mintusov is one of the leading political consultants in Russia, who runs campaigns internationally.
Since 1989 he managed numerous gubernatorial campaigns in Russian Federation, including Komi Republic, Khabarovsky Krai, Brianskaya, Kaluzhskaya, Irkutskaya, Sakhalinskaya oblasts. Mintusov was a personal image-consultant of Boris Yieltsyn during elections of 1996.
Ekaterina Egorova
Founder and President of NikkoloM
Board Member of International Association of Political Consultants
Member of European Association of Political Consultants and International Organization of Political Consultants
Doctor of Political Science, Ph.D. in Psychology
Ekaterina Egorova is well-known person by her works on psychological portraits of political and government leaders. She has written and co-written more than 300 of publications and many of them became the base for Russian political consultants. Ekaterina Egorova was the first one in the Russian science, who created and used a new methodology of analysis of how personality of political leader could influence domestic and international affairs (in a study she focused on personalities of six American presidents). Since 1989 she has taken part in dozens election campaigns in Russia and overseas. Ekaterina Egorova was the personal consultant of the President Boris Yieltsyn on the Presidential Election 1996.
Alexander Dreyling
Chief of Analytical Department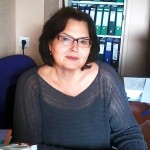 Natalia Panfilova
Chief Financial Officer